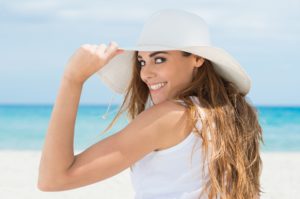 Are you ready to have some fun in the sun with your loved ones? If your teeth are stained, chipped, gapped, or crooked, you might not be looking forward to all of the photo ops this summer. Luckily, your cosmetic dentist in Midlothian, TX has several ways of fixing this issue and helping you beam proudly when the camera comes out. Here are three cosmetic dental treatments that can enhance your smile and boost your confidence.
Discreetly Straighten Teeth with Invisalign Clear Braces
You might be embarrassed by your crooked teeth, but you can't imagine anything more mortifying than having to fix them with metal braces. Fortunately, braces are no longer your only option!
These days, many adults and teenagers choose to straighten their teeth with Invisalign. These clear plastic aligners shift your teeth into more ideal positions, and they practically disappear once they're placed in your mouth. No one even has to know that you're undergoing orthodontic treatment! As an added bonus, the aligners are removable so that you don't have to adjust your diet or oral hygiene routine.
Completely Transform Your Smile with Veneers
Maybe you have chips, gaps, or stains in your smile in addition to crooked teeth. Porcelain veneers are designed to correct all of these imperfections and more in just a couple of appointments. Your cosmetic dentist can bond these custom-made, high-quality ceramic shells to the fronts of your teeth, instantly masking all of their flaws.
Veneers are by far the most versatile cosmetic dentistry service; they can brighten discolored teeth, close small gaps, conceal chips or cracks, and even make teeth appear straighter. That's why they've earned the nickname "instant orthodontics." Many celebrities actually use veneers to achieve their picture-perfect smiles!
Seamlessly Heal Your Pearly Whites with All-Ceramic Restorations
In the old days, your dentist's only option for repairing a decayed or severely damaged tooth was to place a metal restoration that stood out like a sore thumb in your smile. Thankfully, dental technology has come far since then. Nowadays, dentists can place crowns, inlays, and onlays that perfectly mimic your natural tooth enamel while also repairing your smile. Once your dentist has placed these all-ceramic restorations, even you might have trouble distinguishing them from your real teeth!
Are you ready to quit shying away whenever someone pulls out their camera? Then ask your cosmetic dentist in Midlothian about which treatment is right for you. They can come up with a personalized solution that will allow you to beam with confidence all summer long!
About the Author
At Marvel Dental in Midlothian, TX, Dr. Dipak Chudasama is proud to help patients of all ages achieve the straight, gorgeous grins they deserve. After earning a general dentistry degree, he obtained a Master of Science Degree in Orthodontics from the Eastman Dental Institute of London. He has also served as a professor in Jacksonville University's School of Orthodontics. Thanks to his impressive experience, he and the other dentists at Marvel Dental are able to provide a variety of cosmetic dental treatments. To learn more about boosting your confidence this summer, contact Marvel Dental at 682-772-3072.