Tooth-Colored Fillings Can Make Cavities Disappear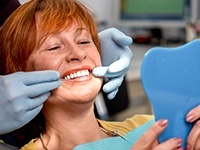 For most people, cavities are inevitable at one point or another, but fortunately, repairing them is easier than ever thanks to tooth-colored fillings. Unlike traditional amalgam fillings, they blend completely into the smile and are practically invisible, enabling a patient to eat, speak, and smile without worry that someone will notice their treatment. Our dentists can place a tooth-colored filling in just one easy appointment here at Marvel Dental, and in the end, only they and a patient will be able to notice that they've had any dental work.
What is a Tooth-Colored Filling?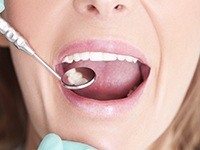 What makes a tooth-colored filling so special is the material that comprises it: composite resin. This is a plastic/glass mixture that is strong, malleable, and as you probably guessed, can be specially shaded to perfectly match a patient's enamel.
This material not only provides a cosmetic benefit, but a restorative one as well. Traditional amalgam fillings require quite a bit of a tooth's structure to be removed in order to stay in place, but this isn't the case with tooth-colored fillings. The resin simply bonds directly to the enamel, allowing a dentist to keep more of a tooth intact. In the end, you get a freshly repaired tooth that not only looks great, but can be trusted to last as well.
Plus, because it is completely metal-free, it doesn't make a tooth more sensitive to hot and cold temperatures like a traditional filling as well.
What is the Procedure Like?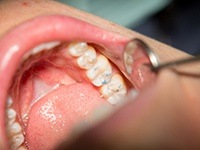 After deciding that a filling is the best way to repair a patient's tooth, your dentist will start by gently numbing it. From there, he'll remove any damaged/decayed enamel, and then he'll apply an etching material to the tooth that will help the resin bond more securely. Once the tooth is properly etched, the dentist will place the color-matched resin in the tooth to restore any of the structure he needed to remove. This can be completed in just one appointment, and most patients report feeling absolutely no discomfort the entire time.
If you're ready to take care of that pesky cavity, a tooth-colored filling can basically make it disappear. To schedule an appointment, contact us today.