Porcelain Veneers in Midlothian: Gorgeous Smiles Made Easy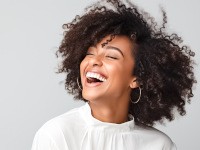 For patients looking to dramatically improve the appearance of their smile in the most efficient way possible, porcelain veneers are the way to go. With this treatment, our dentists can provide everything from a minor touch-up to a dramatic makeover and everything in between. Porcelain veneers are always custom-made, so no matter what you consider to be your perfect smile, we can ensure that's what you'll see in the mirror in the end.
WHAT ARE PORCELAIN VENEERS?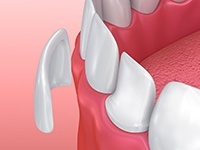 Porcelain veneers are actually extremely thin ceramic coverings that are bonded directly to the front of the teeth. A patient can get just one to enhance a single tooth or an entire set to completely transform their smile. They offer the ideal solution to address multiple cosmetic flaws at once, including stains, chips, cracks, gaps, and even slightly crooked teeth. They have long been the go-to treatment for Hollywood celebrities and models alike, and now, you can get the same quality of treatment right here at Marvel Dental.
WHAT IS THE PROCEDURE LIKE?
When a patient comes to see us who is interested in cosmetic dentistry, we like to start by talking about their goals. What do they really want to change about their smile? Once that is determined, then the dentist will let them know if porcelain veneers are the best way to help them achieve those goals.
If they are, the procedure will involve a few basic steps:
1. After designing a patient's ideal smile, the dentist will prepare the teeth by removing a tiny amount of enamel. This will enable the veneers to lay flush against the teeth and look more natural
2. They will then take an impression of the teeth, and this will be sent to a dental lab to actually fabricate the veneers. Before a patient leaves this first appointment, they will fit them for a temporary set.
3. About a week or two later, a patient will return to Marvel Dental to have their temporaries removed and their final veneers bonded to the teeth. After checking the fit and a patient's bite one last time, their new smile will be ready for the world!
With regular brushing, flossing, and routine dental visits, porcelain veneers can easily look like new for up to 20 years, literally providing countless beautiful smiles.
If you're interested in taking your smile to the next level, porcelain veneers can help you do it faster than anything else, so contact us today for an appointment.