Midlothian Dental Implants: Replace Missing Teeth For a Lifetime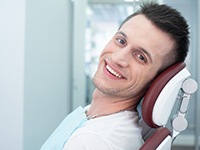 It's estimated that over 120 million people in the U.S. currently have at least one missing tooth, and that number is expected to grow by leaps and bounds in the coming years. If you're one of the many who has to deal with gaps in your smile or an uncomfortable denture, Marvel Dental is ready to offer a solution that's proven to bring back missing teeth better than any other treatment available today: dental implants. With them, our dentists can restore any number of missing teeth so a patient can eat, speak, and smile with complete confidence again. If you're ready to finally say "goodbye!" to the gaps in your smile, be sure to contact us today.
Dental Implant Process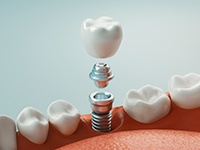 The reason dental implants are so special is because they are the only treatment that restores a tooth both above and below the gum line. A small titanium post is placed into the jawbone where a tooth has gone missing, and this is used to support a variety of dental restorations that show in the smile.
In order to get dental implants, you will first need to undergo a minor surgery where they are actually positioned within the jawbone. After examining you to make sure this procedure would be safe, our dentist will refer you to one of their trusted specialists to carry it out. Afterward, you will need about three to six months to heal, during which the implant posts will actually fuse to the surrounding bone to create the perfect foundation for your smile.
Once you have healed, you'll return to Marvel Dental to receive your new teeth. If you are missing a single tooth, an all-porcelain crown will be attached directly to the implant. Or, if you are missing a few in a row, a single implant can be used to support two crowns, or two implants can help form a bridge as well. Either way, these kinds of restorations will blend completely into the smile, and with regular oral hygiene, they can be trusted to last for 30 years or more.
Implant-Retained Dentures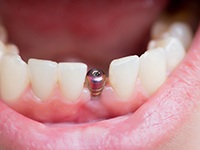 If you have a denture that you can't trust to stay in place or is always causing sore spots in your mouth, then dental implants can easily make both of these problems a thing of the past. With implant-retained dentures, the prosthetic teeth are anchored to the jawbone using multiple implant posts placed within the mouth. This not only gives them a much more secure fit, but the implants themselves will stimulate the jawbone to keep it healthy and full, which will ensure the dentures maintain their day one fit for years to come.
Also, implant-retained dentures have been shown to restore much more of a patient's natural bite force compared to traditional dentures, making it easier for someone to enjoy a more varied and healthy diet with ease, which can quickly improve overall health.