Invisalign in Midlothian: Straighter Teeth Without the Metal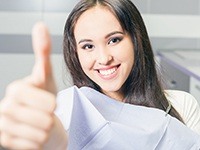 If you're like many adults who come to Marvel Dental, the alignment of your teeth really bothers you. They're crooked, crowded, or there are obvious gaps that make you always think twice before smiling. You'd love to have them straightened, but that presents a new problem: having to get bulky, noticeable metal braces. This was enough to make many patients avoid treatment altogether, which is why Marvel Dental is happy to offer a more mature alternative: Invisalign. Now, you can finally get the straighter smile you've always wanted without having to worry about your daily appearance or deal with a mouthful of metal.
How Does Invisalign Work?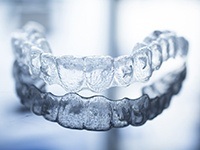 Traditional braces use small metal wires and brackets to slowly bring the teeth into alignment, and this is actually a very effective method. However, Invisalign basically throws it completely out of the window! Instead, it uses a custom-made series of plastic aligner trays that slip over the teeth. As a patient wears each one, it gradually moves the teeth in to the perfect position. Once a patient has gone through their entire series, they'll have a gorgeously straight smile to greet them in the mirror every morning.
Why Patients Love Invisalign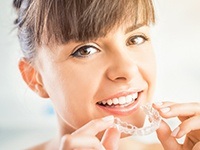 Subtle Appearance: The trays are practically invisible when worn on the teeth, meaning a patient can speak and smile with their friends and coworkers without having to worry about their treatment being noticed.
Comfort: Every Invisalign tray is specially-designed for each patient using smooth plastic, ensuring it fits comfortably over the teeth without causing the lip or cheek irritation common with traditional braces.
Convenience: Did we mention that the trays are REMOVABLE? This means, whether you're getting ready to eat your favorite food or brush your teeth, you can just take your trays out. This enables Invisalign to seamlessly fit into anyone's life without forcing them to alter their daily habits.
Speed: Typically, an Invisalign treatment can be completed in just 12-18 months, which is just a fraction of the time compared to regular braces (which can take two to three years!).
Time: Because Invisalign doesn't have to be regularly adjusted like braces, you'll only have to come in to Marvel Dental for brief progress checks every 6 weeks or so.
How Do I Get Invisalign?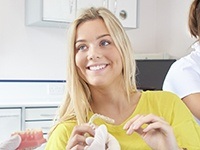 The first step is simply to contact Marvel Dental and schedule a consultation with us. At this appointment, your dentist will ask you about your smile goals as well as perform a brief oral exam. With this information, they can help you determine if Invisalign is indeed the best solution for your smile.
If it is, then they can begin the process of creating your trays. This will involve taking an impression of your teeth to design your treatment which they'll send to a trusted Invisalign lab. After a couple of weeks, we'll receive your trays, and you can come to our office to pick them up, which is when your dentist will show you how to put them on and clean them.
Come Get Your Straighter Smile!
Don't let a fear of braces prevent you from getting the smile you've always wanted any longer! You now have a clear path to straighter teeth thanks to Invisalign. To schedule an initial consultation and get started, contact Marvel Dental today.