Root Canal Therapy in Midlothian Relieves Chronic Pain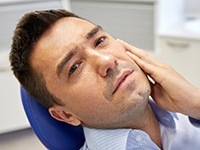 That little toothache you've been ignoring isn't so little any more, and now you're really in need of help. Thankfully, at Marvel Dental, Our dentists are able to relieve even the most severe dental pain using root canal therapy. Now, the words "root canal" are usually enough to make any dental patient feel nervous, but at our practice, this procedure is not the painful experience the media would have you expect. In fact, it's one of the best tools we have to save the most damaged teeth that would normally need to be extracted!
WHY WOULD YOU NEED A ROOT CANAL?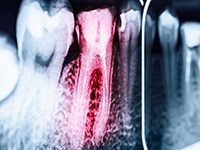 Our dentists typically recommend that a patient undergo a root canal if the dental pulp of a tooth has been damaged
Wait…what is the dental pulp?
It's a small collection of soft tissue that lies at the center of every tooth, and it includes a very sensitive nerve. Whether due to decay or trauma, this tissue can often become infected or die altogether, leading to a painful buildup of pressure that causes the mother of all toothaches. At this point, the only way to solve the problem is with a root canal.
How Root Canal Therapy Works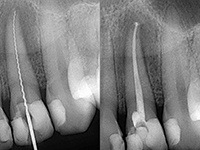 Once a patient and their dentist have agreed that root canal therapy is the best way to solve their problem, the procedure follows a few basic steps:
1. The dentist will begin by numbing the tooth with local anesthesia.
2. Then, they will create a small access hole in the tooth in order to reach the pulp.
3. The pulp will be removed, the inside of the tooth cleaned, and then they'll fill the tooth with a bio-compatible material called gutta percha
4. At this point, they will place a temporary filling to restore the tooth's lost structure.
Afterward, the dentist may choose to further restore the tooth with a dental crown at a follow-up appointment. Thanks to his use of the most modern dental techniques, our root canal patients usually report feeling very little discomfort both during and after their procedure.
If you're dealing with any kind of dental pain that just won't go away, be sure to come see us at Marvel Dental. We'll have the solution you need so your days are no longer hampered by an angry tooth!