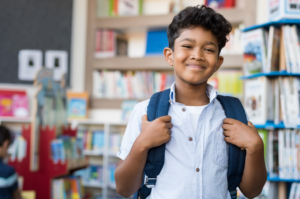 Summer is finally beginning to wind down, which means back-to-school season is on the horizon! And if you're a parent, you're probably pretty busy trying to get everything squared away so that you can prepare your little one for a successful new school year. But did you know that one factor that plays a large part in their academic success is their oral health? Keep reading to learn more from your trusted dentist about the link between oral health and academic performance, along with some tips to ensure your little one is bringing home a report card that'll make you proud!
How Poor Oral Health Can Impact Academic Success
According to a study published in the American Journal of Public Health, the average elementary school student misses a total of 6 days per year—and research shows that around 2 of these days of missed school are due to dental problems! Missing school for any reason can be detrimental to a child's foundational knowledge, and too many absences related to dental pain cause children to miss out on a critical time in their lives when reading, writing, and other fundamental skills become a focus, as does the development of social skills.
Additionally, there are psychological implications of poor oral health that can inhibit academic success. For example, children might feel shame or embarrassment about their unattractive teeth, and this lowered self-confidence can affect the will to study, collaborate, seek assistance, or put forth effort.
Tips for Maintaining a Healthy Smile Throughout the School Year
Students with healthy, brighter smiles have an edge in the classroom; not only are they less likely to miss class due to dental problems, but they'll also exude confidence, which can translate into positive academic performance—as long as they're still studying at home, that is! That said, here are some tips to help maintain healthy smiles, and excellent grades by proxy, throughout the school year:
Ensure that your child is brushing their teeth twice a day, flossing daily, and using an antibacterial mouth rinse. If your child has orthodontics, ensure that they're cleaning their teeth after every meal, even while at school.
Schedule regular dental checkups for your child, ideally during the summer before the school year starts. That way, they're already entering the classroom with a smile that's in great shape.
Encourage sports safety if your child is an athlete; contact sports and non-contact sports alike can lead to falls or injuries that cause dental trauma.
Provide a healthy diet for your child and ensure that they're drinking plenty of water throughout the day.
About the Practice
The talented team at Marvel Dental is honored to provide patients and families in the Midlothian, TX community with outstanding dental care! The practice is fortunate to house four skilled dentists: Dr. Jay Oza, Dr. Vishwam Patel, Dr. William Starck, and Dr. Ahn Vo, each of whom works hard to stay up to date with the latest in advanced treatments and technologies. If you have any questions about the article or you'd like to schedule an appointment for you or a loved one, feel free to contact the practice online or over the phone for additional assistance. Telephone: (682) 772-3072.