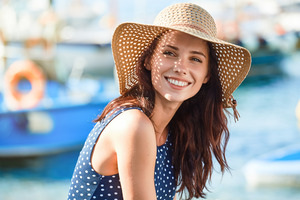 Summer is finally here! When you're having fun with your family during vacation, it can be easy to become more lax about your oral hygiene than you should be. It's important to remain diligent about taking care of your smile so that it's still in excellent shape at the end of the summer. Here are 5 simple tips that your dentist might suggest for protecting your teeth while you're enjoying your time off.
1. Drink Plenty of Water
Obviously, staying hydrated is important if you plan on spending a lot of time in the hot summer sun. But what you may not realize is that drinking more water can be highly beneficial for your mouth. The liquid can wash away food particles as well as harmful bacteria, which means less plaque will accumulate on your teeth and gums.
If possible, you should choose fluoridated tap water over bottled water. Fluoride is essential for strengthening the teeth so that they don't decay as easily.
2. Pay Attention to Your Sugar Consumption
Trying new meals and indulging in sweet treats are classic parts of the summer experience. However, if you're consuming too much sugar, your chances of suffering tooth decay and gum disease will increase significantly. Be sure to enjoy sugary foods and beverages in moderation. Using a straw can help, as it reduces the amount of contact any sugary liquids make with your teeth.
3. When Traveling, Make Sure You Pack Everything Your Smile Needs
Just because you're on vacation doesn't mean you can afford to skip your oral hygiene routine. Before you leave, double-check your luggage to make sure you have everything you need to take care of your smile. This includes your toothbrush, fluoride-based toothpaste, dental floss, and mouthwash.
4. Stick to Your Routine No Matter What
When you return to your home or hotel room at the end of an activity-filled day, you may be tempted to head straight to bed. But no matter how tired you are, you need to remember to brush and floss thoroughly first. If you don't, then any harmful food particles and bacteria that are still in your mouth will stay there overnight, and that can have serious consequences for your teeth and gums.
5. Visit Your Dentist Before You Leave on Vacation
Trying to have a cavity or another dental issue treated when you're on vacation can be stressful and costly. But if you make an appointment with your dentist before you leave on a big trip, they can check for existing issues so that you can have them dealt with before you leave. They can also check for areas where plaque and tartar have accumulated so that you know where you need to do a better job brushing.
About the Practice
At Marvel Dental, our patients can benefit from having multiple talented dentists under a single roof. We offer a beverage bar, noise-canceling headphones, and other amenities to make our office more comfortable. We're happy to help Midlothian patients of all ages. To schedule a summer appointment at Marvel Dental, visit our website or call (682) 772-3072.