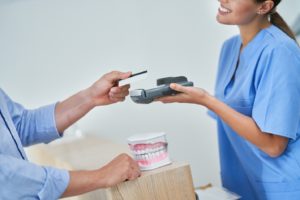 Believe it or not, dental insurance is one of the best ways you can protect your smile—and though sometimes it might seem like caring for your pearly whites is expensive, your benefits can actually save you quite a bit of money if you know how to effectively use them! Here are some tips from your dentist in Midlothian to help you make the most of your dental insurance benefits so that your smile is set to look and feel its best for several years to come.
1. Attend Your Routine Checkups
Arguably the best way you can take advantage of your dental insurance, the cost of routine preventive care is typically built into your plan—meaning that since these visits are already technically paid for, it's in your smile and wallet's best interest to attend them! Simply put, these visits are an effective means of preventing serious and expensive problems from developing in the future. Your dentist will thoroughly inspect your mouth and clean your teeth and gums of stubbornly built-up plaque and tartar that you can't remove at home on your own. And since your oral and overall health are so closely linked, these visits also benefit your bodily wellness!
2. Know the Details of Your Plan
Dental insurance plans typically operate on a calendar-year basis, meaning that when your plan activates at the beginning of the year, you're given an annual maximum that represents the most your plan will pay for approved services. This amount carries through the end of the year, and any unused benefits won't roll over to the next year. It's also important to know what specific treatments are covered by your plan; usually, preventive and restorative care is at least partially to mostly covered, as issues like decayed teeth and gum disease are accompanied by certain health risks.
3. Schedule Major Dental Work Strategically
Sometimes, major dental work can take multiple visits to complete, and the costs of these visits can quickly add up. However, you can schedule major dental work accordingly so that all of your required visits are covered. If there's a certain treatment that you need but it exceeds your annual maximum, you can schedule part of it for the following calendar year. This wisely allows you to take advantage of two separate annual maximums, rather than just one.
4. Consider Using Your Flexible Spending Account (FSA)
If your employer offers an FSA, you might be able to use it with your dental insurance—and there are several benefits to doing this. With an FSA, you reduce your taxable income and put that money aside for healthcare expenses. By using tax-free dollars to pay for these expenses, you have more take home pay, larger tax savings, and much more control over your budget which allows you to plan for the cost of dental work.
If you want to make the most out of your dental insurance coverage, following these tips will allow you to do so. Remember, your smile is an investment—so ensuring that it looks and feels great is well worth the cost.
About the Author
Dr. Jay Oza has served patients and families in the Midlothian, TX area for several years and his practice is thrilled to offer a wide range of services including preventive, cosmetic, and restorative options. His team is more than happy to work with you to ensure that you're fully maximizing the benefits of your insurance plan. If you have any questions about the article or are ready to schedule a visit, don't hesitate to contact Dr. Oza through his practice's website or by phone for assistance: (682) 772-3072.