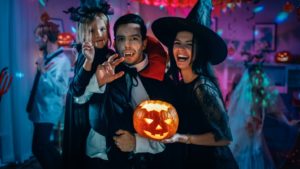 With summer behind us and autumn rolling in, it's finally almost Halloween! And amidst all of the pumpkin-carving, costume designing, and trick-or-treating, it might be easy to accidentally neglect your oral health! Fortunately, there are several things you can do to make sure your smile looks and feels great for all of your Halloween fun. Here are four tips from your dentist in Midlothian to help you out!
Tip #1. Enjoy Your Candy During Mealtime
Your saliva is your mouth's first line of defense against the cavity-causing bacteria that's spawned from Halloween candy. It helps to rinse away food particles and sugar and can effectively cancel out some of the acids produced by these bacteria. And fortunately, saliva production increases during meals! Not to mention, eating candy with or directly following a meal also limits the amount of time the sugar has contact with your teeth.
Tip #2. Be Picky About Your Candy
You should try to avoid hard candy and sticky sweets that stay in your mouth for extended periods of time; these are actually some of the worst candies for your teeth! Harder candies are also more likely to lead to chipped or fractured teeth. Meanwhile, sour candies are quite acidic, which is terrible for your enamel! However, chocolate and sugarless gum are the best candy options for your teeth; chocolate washes off of your teeth easier than most types of candy, and dark chocolate is even better because it has less sugar! Chewing sugarless gum also increases saliva flow which helps wash away food and neutralizes the acids produced by bacteria.
Tip #3. Drink Plenty of Water & Eat a Healthy Diet
Water is the absolute best beverage for your body, including your mouth! Water helps prevent cavities by washing away any sugar that might be clinging to your teeth after consuming candy and sweets. Eating a balanced diet has positive effects on your overall health, as well as your oral health. Fueling up on healthy foods can also help you to feel fuller faster, before you have the chance to overindulge on candy. You should also avoid sugary drinks like sodas, sports drinks, and flavored waters.
Tip #4. Brush & Floss Consistently
Halloween can be a very busy and exciting night, and you might not remember to brush or floss your teeth before heading to bed—but you should absolutely take steps to ensure that you're maintaining your oral hygiene regimen. Brushing twice a day for two minutes and flossing at least once per day can actively mitigate several oral health issues that'll spoil your Halloween fun!
There are many spooky and frightening things this time of year—but your teeth shouldn't be one of them! Following these tips will ensure that your smile is in tip-top shape for all of your Halloween fun.
About the Practice
The team at Marvel Dental is thrilled to serve the dental needs of the Midlothian, TX area under the leadership of three skilled specialists: Dr. Jay Oza, Dr. Vishwam Patel, and Dr. William Starck. Their practice is pleased to offer a wide range of services including preventive, cosmetic, and restorative options. If you have any questions about the article or would like to arrange a visit, please contact the practice through their website or over the phone for assistance: (682) 772-3072.