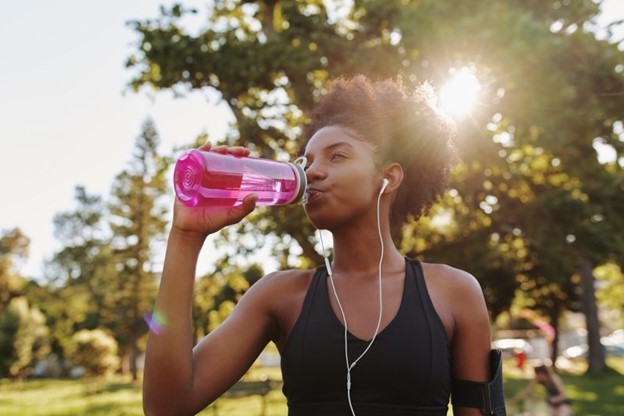 Summer is finally in full swing, and this one feels like it's going to be a scorcher! That said, are you taking the necessary measures to ensure that your body is staying properly hydrated? Water is the most important beverage for your whole body, but especially your oral health! That said, the signs of dehydration aren't always obvious and sometimes you can be dehydrated without even realizing it! Keep reading to learn more from your dentist in Midlothian about the importance of hydration along with a few hard-to-detect signs to keep an eye out for.
The Importance of Staying Hydrated
Did you know that your body is actually mostly made up of water? That said, hydration benefits your whole entire body, but especially your teeth, gums, and mouth. If your mouth is sufficiently moist, it's able to produce enough saliva which is very important for neutralizing the cavity-causing bacteria that's present in your mouth. It also helps to wash away any food particles or debris that remains lingering after you eat. Without saliva, your mouth won't just feel dry—it'll also become very vulnerable to tooth decay, gum disease, and all sorts of unpleasant oral health problems. Not to mention, drinking enough water cools you off and freshens your breath!
Sneaky Signs of Dehydration
You're often already dehydrated by the time you begin feeling thirsty! But thirst isn't the only symptom of dehydration, even if it is the most obvious one. Here are a few more signs to look out for:
Bad breath/dry mouth – If you don't have enough saliva inside your mouth, bacteria can thrive and cause dry mouth, bad breath, and even mouth sores.
Headaches – Even just mild dehydration can cause headaches or sometimes migraines.
Flu-like symptoms – Lightheadedness, nausea, fever, chills, or other cold/flu-like symptoms can result from severe dehydration.
Hunger – The hypothalamus, the region of your brain that controls thirst and hunger, can sometimes make you feel hungry right after you eat—this usually means you're dehydrated.
Fatigue – You might also feel lethargic, unenergetic, or unable to get a good night's sleep.
Muscle cramps – Athletes aren't the only ones who can get cramps! Even just walking around while you're dehydrated can lead to a painful charley horse.
Dark-colored urine – If your urine is a darker shade of yellow, you should drink some water. Clear, pale-yellow urine means you're adequately hydrated.
Tips for Staying Properly Hydrated
Despite what you've maybe heard, there is no set amount of water that you should drink every day. Rather, drink when you're thirsty and stop when you're not. That said, also consider the following tips to ensure that you're getting enough fluids:
Drink water in advance of spending time outdoors, exercising, or partaking in physical sports or activities.
Consider carrying a refillable water bottle with you.
Try to drink tap water whenever you can, as it usually has fluoride added to it which benefits your tooth enamel.
Dehydration puts your whole body at risk, but especially your mouth. That said, watch out for these sneaky signs of dehydration and be sure to drink enough water this summer; your pearly whites will thank you!
About the Practice
Marvel Dental proudly serves patients and families in the Midlothian area under the leadership of three skilled specialists: Dr. Jay Oza. Dr. Vishwam Patel, and Dr. William Starck! Their practice is pleased to offer several available services including preventive, cosmetic, and restorative dentistry options. If you have any questions about the article or would like to schedule a visit, feel free to contact the practice online or by phone: (682) 772-3072.