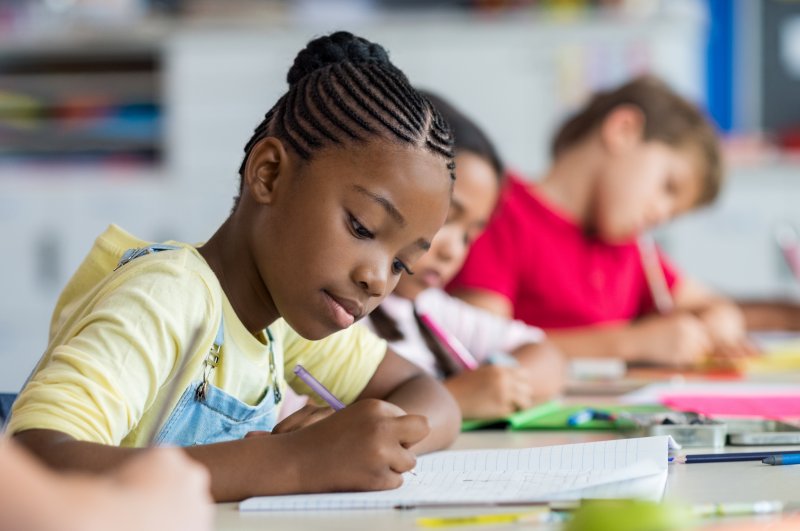 Although it may be hard to believe, back-to-school season is already here! To set your child up for a successful school year, you may be organizing carpools, purchasing supplies, and picking out new clothes for them to wear. However, it's important not to forget about the link between academic success and oral health! Keep reading to learn why you should add your child's six-month checkup and cleaning to your list of to-dos.
What the Research Says
Extensive research has been conducted on the link between academic success and oral health. The findings are unanimous: the condition of your child's teeth and gums matters. In fact, children with dental problems were more likely to miss days, have problems concentrating, and not complete all required work. Plus, the psychosocial consequences, like shyness and feelings of worthlessness, also played a role in their success in the classroom. Therefore, it's of the utmost importance that you prioritize their oral health heading into the school year.
Good Oral Care Habits for the New School Year
If your child got off track with their dental care over the summer, there is no time like the present to implement a solid oral hygiene routine again! Here are a few best practices they should be following daily:
Brushing for two full minutes morning and night.
Flossing (and rinsing with mouthwash once they are old enough).
Limiting consumption of sugary foods and beverages, like candy and soda.
Avoiding unhealthy dental habits, like chewing on ice or pen caps.
Eating a balanced diet filled with nutrient-dense foods.
Drinking plenty of water.
Why Your Child's Dental Checkups & Cleanings Are Essential
Even with a solid at-home dental care routine in place, your child's oral hygiene regimen is incomplete without biannual dental checkups and cleanings. To start, these visits catch dental problems like cavities in the early stages, addressing the concern before it has a chance to wreak havoc on your child's oral health. Additionally, the cleaning portion of these appointments removes stubborn plaque while simultaneously cleaning the hard-to-reach areas of their mouth. So, scheduling your child's six-month dental visit sooner rather than later is of the utmost importance!
About the Practice
At Marvel Dental, we are proud to have a hand-selected team of talented dentists in-house. Thanks to their expertise, skill, and training, they have all of your child's dental needs covered, from essential preventive care to tooth-saving restorative dentistry. Whether your child is a new visitor or a long-time patient, we will go above and beyond to make their experience enjoyable so that they genuinely look forward to their visits! If you'd like to schedule an appointment for your child before the school year starts, don't hesitate to get in touch with our team via our website or by phone at 682-772-3072.