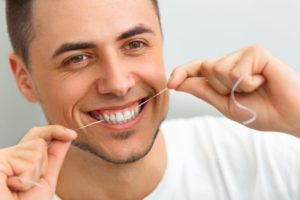 The new year is underway, and you're thrilled about the opportunity to make improvements in different aspects of your life. One area that your dentist in Midlothian says you may need to devote more attention to is your oral health. By doing so, you'll be able to maintain fully-functional and gorgeous teeth, which will help to boost your confidence and propel you to achieve your other goals. Read on to get 5 key tips that will help you out!
Tip #1 – Use Care When Brushing Your Teeth
One of the leading causes of bleeding gums is gum disease, which is inflammation of the tissue. However, gum bleeding is sometimes brought on by vigorous brushing and the usage of bristles that are too hard.
Some remedies are to use softer bristles and to allot more time for brushing your teeth so you don't feel rushed. As a reminder, the American Dental Association recommends you spend at least two minutes brushing to ensure your teeth are properly and safely cleaned.
Tip #2 – Make Flossing a Regular Habit
Research has shown that toothbrushing normally will clean only 60% of the surface of your teeth. This is where floss comes in handy. The flexible material allows you to get into the tight spaces between your teeth to remove food particles and bacteria, which is essential for preventing cavities and the development of gum disease.
Tip #3 – Cut Back on the Sweets
If you have a "sweet tooth," you may find it difficult to scale back on your sugar consumption, but there is a simple way. A change you can make is to incorporate more fruits into your diet. They help to fulfill the desire for eating something sweet while reducing the detrimental effects that come along with consuming dessert items, candy and other snacks that are higher in sugar.
Tip #4 – Increase Your Water Intake
Drinking water is not only vital to your overall health, but it also helps to fight bacteria. That's because the latter flourish in warm, dry environments. Thus, saturating your mouth with water has an indirect yet positive effect on your oral health.
It's also a good idea to drink water after eating a meal, as it helps to flush away leftover debris that could encourage bacteria growth.
Tip #5 – Make Preventive Care a Priority
If you slacked on maintaining preventive care visits over the last 12 months, then you have a fresh opportunity to do an "about-face" in the new year. For just an hour of your time – every six months – you can experience the security that comes along with having excellent dental health.
This is accomplished through:
Being able to ask questions and receive expert advice
Your teeth being cleaned to remove harmful plaque and tartar
The dentist and dental hygienist performing thorough examinations
So to make this your best year for oral health yet, be sure to apply everything you've learned here, and reach out to schedule your first visit today!
About the Author
Dr. Jay Oza earned his dental degree from New York University, and throughout his career, he has remained committed to further expanding his knowledge. Thus, he takes continuing education courses and maintains membership with such organizations as the Texas Dental Association and the Fort Worth Dental Society. Dr. Oza provides the utmost in dental care at Marvel Dental, and he can be reached for more information through his website.