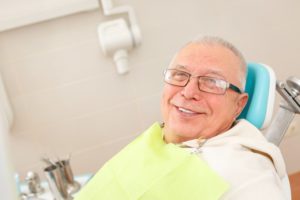 If you were to notate all the unwanted lifestyle changes you've endured since you lost your teeth, the list would be long. It would have to include such things as the inability to eat the foods you enjoy and a reluctance to smile for photos. Behind all the inconveniences you acknowledge, there would also lurk the feeling of lost confidence. Thankfully, there is a way to address all of the above – with dental implants in Midlothian. Learn how they can positively change your life!
This Separates the Dental Implant
While there are different avenues for tooth replacement available, the dental implant procedure is considered to be the "gold standard." That's because no other form of tooth replacement addresses the problem at the root level.
The dental implant process differs in that a titanium post is inserted into the bone that lies beneath your gums, which contributes to the support of your entire facial structure. After the post is placed, your body will initiate a fusing process called osseointegration that forges a bond between the implant and the jawbone. This aspect of the dental implant process is only matched by the natural tooth root.
How a Dental Implant Can Change Your Life
There are several advantages to the dental implant procedure, and they can make a positive and lasting impact on your oral health and total wellness. Here are some specific perks:
Bone Loss Prevention – By attaching to the jawbone and re-establishing a healthy degree of tension, the dental implant triggers the production of new bone cells, which helps to prevent future tooth loss.
A Sure Application – Unlike other forms of replacement that rely on the surrounding teeth, dental adhesive or the natural suction in the mouth for security, dental implants are attached beneath the gums to ensure no embarrassing slippage or an appliance falling out.
Aesthetically-Pleasing – Patients are able to enjoy a natural-looking smile because of the implant being attached at the root level.
Anti-Aging Properties – One of the common effects of prolonged tooth loss is facial wrinkling from the decreased bone mass. By dental implants fostering continued bone growth, this problem is avoided.
The Power of Being Proactive
If you are living without your teeth, then the time is of the essence to have them replaced. That's because the longer you are missing teeth, the greater the chances are for bone loss.
So to get on the road to a full recovery, reach out to your dentist in Midlothian to schedule a consultation today.
About the Author
Since graduating from New York University, Dr. Jay Oza has remained committed to providing the absolute best in dental care to his patients. Thus, he takes numerous courses in continuing education annually and maintains affiliation with such professional organizations as the Texas Dental Association and the Fort Worth Dental Society. Dr. Oza replaces missing teeth with dental implants at Marvel Dental, and he can be reached for more information through his website.