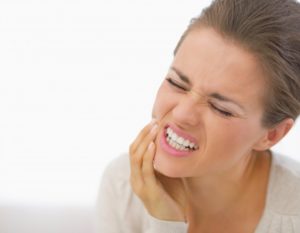 It's a Sunday in North Texas, and the Cowboys are playing at home. Thus, you're looking forward to a full day of tailgating, talking with friends and cheering on "America's Team." Today, there's a roadblock, though. You're stopped in your tracks by a toothache that prevents you from even leaving the house. What should you do? As you read on, your emergency dentist in Midlothian explains how to respond to this and other types of dental emergencies.
This is a Dental Emergency
If you have excessive bleeding, severe pain, a lost tooth or restoration, then it qualifies as a dental emergency. Here's what you should do no matter what type of trauma you have:
Take a deep breath.
Fully assess the situation.
Contact your emergency dentist to alert a staff member as to what has happened.
Do This for a Toothache
A severe toothache can be brought on by the accumulation of bacteria or a broken tooth. You should first rinse your mouth and then carefully brush and floss to remove any object that could be causing the pain. To reduce the discomfort, you can take an over-the-counter pain reliever like ibuprofen.
Knocked-Out Tooth
If your tooth is dislodged, carefully grab it by the crown (the wider part), rinse it under warm water and place it back in your mouth. Its' important to be seen by your emergency dentist within a six-hour window, though, so the tooth can be reinserted.
Partially Dislodged Tooth
If your tooth is partially knocked-out, then gently press down on the crown to place it in its rightful spot. You can also carefully bite down on a cotton gauze to stop any bleeding.
Chipped, Cracked or Broken Tooth
A damaged tooth can leave you with moderate to severe pain. The first step is to rinse your mouth with warm water to remove any lingering debris or fragments. Then gently bite down on a cotton gauze to stop any bleeding.
Object Lodged Between Teeth
Having an object stuck between your teeth can cause irritation and pain. The first step you should take is to carefully floss around the area in an attempt to remove the object. If you are unsuccessful, don't try to force the issue. Your emergency dentist will be able to help you.
Damaged or Lost Dental Work
If your dental restoration (temporary crown or filling) has fallen out, then do the following:
Retrieve and dry it off.
Place a dollop of toothpaste, denture adhesive or dental wax on the fixture, and temporarily reinsert it.
Laceration
A cut to the soft tissues in your mouth can result in substantial blood loss. First, rinse the area with warm water and bite down on a cotton gauze if possible. If the bleeding continues for more than 10 minutes, then head to the emergency room.
Jaw Injury
A fall or blow to the face can result in a serious jaw injury. If you have severe pain or swelling in this area as a result, then immediately head to the emergency room.
Having a dental emergency can put a damper on your plans, but knowing how to identify and respond to trauma will allow you to recover so you can get back to your normal life. If you find yourself in one of the above situations, don't hesitate to contact your local professional for help.
About the Author
Dr. Jay Oza earned his dental degree from New York University and has since remained dedicated to providing patients with top-notch oral care. Thus, he takes continuing education annually and maintains affiliation with professional organizations like the American Dental Association and the Fort Worth Dental Society. Dr. Oza treats dental emergencies at Marvel Dental, and he can be reached for more information through his website.