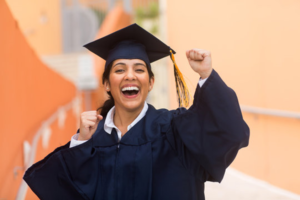 If your child is about to graduate from high school or college, you've probably got a lot on your mind as you prepare them for their big day! Of all of life's milestones, graduating and entering the "real" world for the first time is a pretty big one—and you should want your loved one to not just feel confident about their future, but also feel self-assured about how they look! This is why you should consider taking them to their cosmetic dentist so that their smile can look stunning for their walk across the stage and their upcoming endeavors.
A Beautiful Smile Will Carry You Far
You've probably heard that your smile is one of the first features that people notice about you—and when your child receives their diploma, you should want their grin to captivate everyone around them! But it's not just about looking good for their graduation ceremony; they're also going to be set up for positive first impressions, expanded opportunities, and a notable surge in self-esteem moving forward. Simply put, a flawless smile makes your grad look happier, healthier, more attractive, and simply better at whatever you end up doing in life!
Here are a few examples of some professions that benefit greatly from healthy teeth include:
Lawyers arguing cases
Teachers teaching classes
Businesspeople making deals
Beauticians working with clients
Newscasters on television
Restaurant staff greeting customers
Repairmen working with homeowners
Cosmetic Treatments That Are Perfect for Graduates
Cosmetic dentistry is capable of tackling a wide range of aesthetic issues, and countless treatments exist to meet the varying needs of patients. Here are a few common options that are widely accessible and perfect for your graduate:
Teeth Whitening – Teeth whitening is a quick, noninvasive procedure capable of whitening a smile by up to several shades, with results lasting from a few months to a couple of years. Your grad's smile will look dazzling as they walk across the stage and accept their diploma!
Veneers – Veneers are among the most comprehensive cosmetic treatment options, capable of addressing all sorts of aesthetic issues including chips, cracks, stains, gaps, and more. They can last for several years under ideal conditions.
Crowns – One of the most versatile solutions around, crowns can restore a compromised tooth in terms of damage and appearance.
A healthy and beautiful smile can greatly contribute to one's wellness and happiness—so setting your graduating student up for success as they leave the nest and enter the professional world is a wise idea.
About the Practice
Marvel Dental has proudly served patients and families in the Midlothian, TX community for several years under the leadership of Dr. Jay Oza and his skilled team. They offer a wide range of preventive, restorative, and cosmetic services that are certain to help you or your loved ones achieve a beautiful and healthy smile. If you have any questions about any of the treatments they offer, or you'd like to arrange a visit, you can contact the practice online or over the phone for further information or assistance: (682) 772-3072.